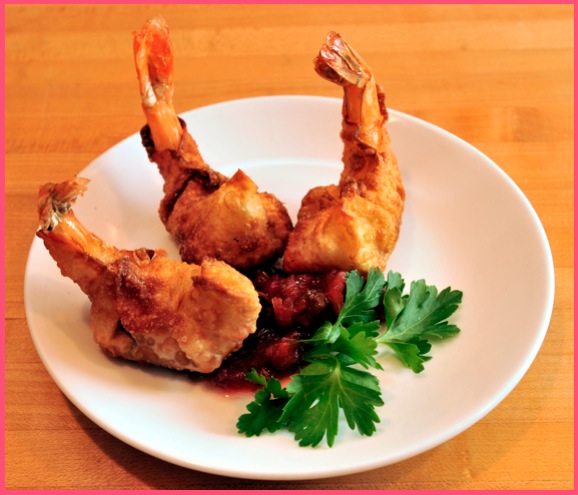 Shrimp in Kimonos pairs the sweetness of shrimp with a gingery rhubarb compote. Wrapped in wonton skins and quickly fried, they're a great way to start a meal. The recipe is in the appetizer chapter of "Rhubarb Renaissance."
SHRIMP IN KIMONOS
You've heard of pigs in blankets? Well, here's the seafood version, succulent shrimp paired with a savory rhubarb compote, then enrobed in wonton wrappers and fried. Leaving the tails on makes for prettier presentation, but tails off means easier eating. Makes 30–36.

1 tablespoon red wine vinegar
1/3 cup light brown sugar
1 cup rhubarb, cut in half-inch pieces
1 teaspoon freshly grated ginger
2 scallions, white and some green parts, thinly sliced
¼ teaspoon dried rosemary
1 bay leaf
1½ pounds large (20–24 count) shrimp, shelled and deveined
1 teaspoon cornstarch
30-36 wonton wrappers
1 egg, beaten
1½ cups canola or peanut oil for frying
sea salt

In a medium saucepan, combine vinegar, brown sugar, rhubarb, ginger, scallions, rosemary, and bay leaf and bring to a boil. Reduce heat to a simmer and cook, stirring occasionally, until the rhubarb breaks down and begins to look "jammy," 10 to 15 minutes. Remove from heat, remove and discard bay leaf, and scrape mixture into a bowl. Set aside to cool.

Pat shrimp dry. Sprinkle a plate with cornstarch to keep the "kimonos" from sticking after they're wrapped.
Brush one wonton wrapper with beaten egg. Place a half teaspoon of rhubarb in the center and place one shrimp on the diagonal. Fold one half of the wrapper over the shrimp, then the other. Bring the corner opposite the tail up and over the seam and pinch to seal. Pinch the remaining corner around the shrimp's tail, almost like a collar. Place on the cornstarch-covered plate and repeat until all the shrimp are wrapped.
Heat oil in a skillet or wok over medium-high heat until a wrapper starts to sizzle when you dip a corner into the oil. Fry 3 wrapped shrimp at a time for about a minute, turning once, until crisp and golden. Remove to paper towels and sprinkle with a bit of sea salt. Repeat with remaining shrimp. They're best served immediately but will hold for up to 30 minutes, uncovered, in a 200-degree oven.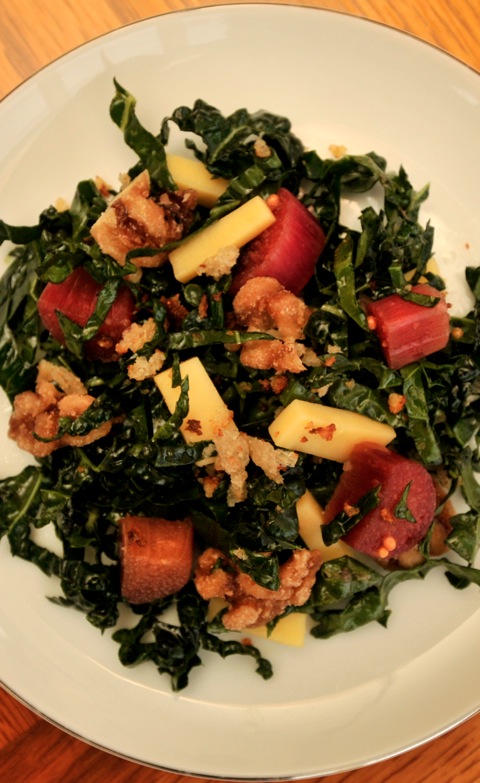 Confetti Salad is one of my favorites because besides being incredible healthy, it looks great -- so high-contrast with the ruby rhubarb, golden gouda and emerald kale. The recipe is in the Salads section of the cookbook -- although it could easily reach entree level by adding some roasted chicken or strips of seared tofu.


Confetti Salad of Kale and Rhubarb


I love this salad. It's gorgeous, but it also makes you feel like a superhero with all of its vitamins! Lacinato kale—a dark green variety often called dinosaur kale—provides the best color contrast for the ruby bits of rhubarb and golden batons of cheese. The liquid from the pickled rhubarb helps make the vinaigrette. Prepare the rhubarb at least three hours before serving.
Serves 6.

Pickled Rhubarb:


1 cup rhubarb, cut in quarter-inch pieces
1/3 cup sugar
½ cup white balsamic vinegar
½ teaspoon salt
½ teaspoon mustard seeds


Place rhubarb in a shallow heatproof bowl. In a small saucepan, combine remaining ingredients and bring to a boil; cook until sugar dissolves. Pour mixture over the rhubarb and let sit at room temperature for at least 3 hours before using. The pickles' flavor even improves if refrigerated overnight. Any leftover pickling liquid can be refrigerated for future use.

Salad:


1 bunch (12–15 leaves) Lacinato kale
3 tablespoons pickling liquid from rhubarb
3 tablespoons walnut oil
hefty pinch salt
several grinds pepper
4 ounces aged Gouda, cut in fat matchsticks (about 1 cup)
1 tablespoon butter
½ cup fresh bread crumbs, preferably sourdough
½ cup candied walnuts (page 18), roughly chopped


Remove center rib from kale leaves, stack several pieces, then slice crosswise into a fine julienne. You should end up with about 5 cups. Rinse kale and pat dry between paper towels or use a salad spinner.

Whisk together pickling liquid and walnut oil. Season with salt and pepper. Toss dressing with the kale, then gently fold in the cheese and drained rhubarb. Place in refrigerator for at least 30 minutes so the kale softens a bit; it can chill for up to 3 hours.

Heat butter in a small saucepan over medium heat, then add bread crumbs, stirring to coat. Cook, stirring, until crumbs are golden and
crisp. Set aside.

Before serving, toss salad again, add bread crumbs and walnuts, and

toss once more.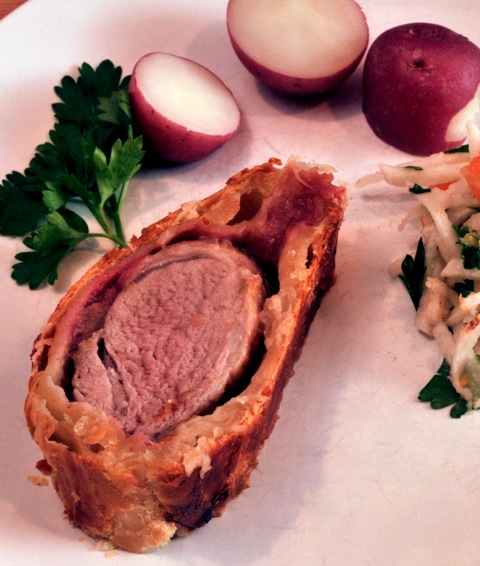 Pork Morningside is a tart variation on Beef Wellington, and is way easier than you might think, thanks to puff pastry in the grocery freezer case. (You want to make your own? I bow in homage.) A seared pork tenderloin is rolled up with one batch of the foundation recipe for savory rhubarb. The recipe is in the Entrees section of the cookbook.